The Tale of Old Ephraim -- the Great Grizzly of the Cache National Forest.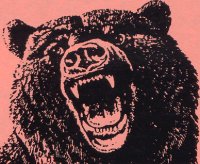 Introduction.
This is the story of a gigantic grizzly bear who roamed the Cache National Forest from about 1911 to his death on August 22, 1923.
In the early 1900s, bears were a problem for sheepherders. One grizzly bear had developed quite a name for himself. Sheepherders called him "Old Three Toes," for a deformity on one foot. This grizzly's distinctive tracks made his tracks easy to identify. The bear wandered from Soda Springs, Idaho, and as far south as Weber County, and finally settled in Logan Canyon. "Old Ephraim" was named after a grizzly in California described in a story by P. T. Barnum.